On May 2, 1863, the citizens of Rome went to bed with no thought of the danger that awaited them the next day. Thanks to a Gadsden, Alabama mailman, people in Rome were awakened in the night with the warning of Union soldiers on their way to destroy Rome's railroads, the Etowah Ironworks, and possibly burn the city of Rome. It was the height of the Civil War and John Wisdom's mother, who lived in Rome, was in danger. He rode 65 miles on four horses and one mule, pony-express style, for eleven hours to warn Rome of the imminent attack. His successful mission earned him the moniker "Paul Revere of the South" and a celebration in Rome when the citizenry realized that he had prepared them to meet the Yankees.
Meanwhile, back in Alabama, a 15-year-old farm girl from Gadsden, Alabama volunteered to help Confederate General Nathan Bedford Forrest find a crossing in the Black Creek outside town. Forrest and his 500 troops were pursuing and attacking Union Colonel Abel D. Streight's 1500 soldiers. Streight was destroying anything he could find that would help the South and burning every bridge that Forrest could cross. It was a rainy season that year. The rivers and creeks were swollen with water and made travel through Alabama difficult. His goal was to destroy parts of the Western and Atlantic Railroad that supplied the Confederate Army, plus any ironworks that made and supplied ammunition and artillery for the Confederacy. He was well on his way to Rome until Forrest caught up with him and tricked him into surrender.
If you live in Rome, you may be familiar with this lively history. People who lived through the Civil War in Rome, Gadsden, Cedar Bluff and other parts of the South found this same history terrifying, and in some cases, devastating. It is with this fact in mind that the idea of remembrance of this particular history is retold in the form of a Civil War Reenactment on the actual surrender site of Streight to Forrest. A portion of the William Henry Lawrence farm, the site where Streight surrendered, was purchased privately, with the idea of creating a Battlepark where this history will always be preserved.
The first Civil War Reenactment for Streight's Raid open to the public will take place on Saturday, October 14 and conclude on Sunday, October 15, 2023. What exactly will take place on these two days? Reenactors in period dress will camp in replicas of 1860's tents, cook over open campfires using replicas of 1860's pots, pans and eating utensils and recreate Civil War skirmishes and battles to demonstrate what life was like for the Civil War soldier on the battlefield. The public will be invited to stroll through both the Confederate and Union camps, ask questions of the reenactors, take pictures and experience the life of a soldier and sometimes his family who traveled with him to war. Merchants, called sutlers, will set up in tents, selling replicas of items from the 1860's, including clothing, shoes, linens, jewelry, leather goods, metalworks, and much more. Food Trucks will be available to offer food and drink, so that guests will not have to leave if they want to stay longer. Porta-potties take care of those essential needs when nature comes calling. After all, this is an outside event! Best of all, two reenactment battles, one on Saturday at 2pm and one on Sunday at 2pm will give the audience a close-up view of what a skirmish looked like in person during the Civil War. The idea is to not only remember the history that happened on this land, but to step back in time and experience what it was like to live in the 1860's.
Streight's Raid Civil War Reenactment is a fun family outing. Even though the firing of cannon and rifles do not use cannonball and bullets, the smell of the gunpowder and deafening sound of the cannon give the viewer a sense of being right in the thick of the battle in 1863. Gates open at 8am on Saturday, October 14 and are open throughout the weekend. Most spectators come and go as they please, mostly arriving sometime before the 2:00pm battle and leaving at some point after the battle on both days. Spectators are welcome to stroll around and visit the soldier camps, sutlers and food trucks as they like. Such freedom allows children to explore, learn and enjoy the outdoors with their families. The cost is $10 per car per day for the public to help cover the cost of the Reenactment. No reservations are necessary. Arrive when you like. Take a road trip to Cedar Bluff, Alabama and step back in time!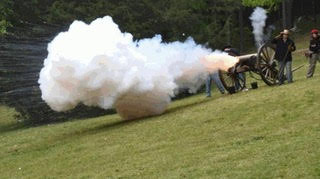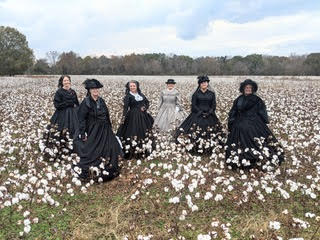 -Particulars-
Streight's Raid Civil War Reenactment
Saturday, October 14, 2023
Gates open at 8:00am CST (9:00am EST)
Camps available for observation and conversation
Sutlers available for browsing and purchasing
Food trucks available for satisfying the appetite
Saturday Reenactment Battle – 2:00pm CST (3:00pm EST)– bring your own chair
Reenactment Ball – dress in period dress and dance to the music of "UnReconstructed,"
Emmy-award winning Civil War String Band – 7:00pm-10:00pm CST (8:00pm-11:00pm EST)
Sunday, October 15, 2023
Reenactor Church Service – 10:00am CST (11:00am EST)
Camps, Sutlers, Food Trucks available throughout morning
Sunday Reenactment Battle – 2:00pm CST (3:00pm EST)
Battlepark at 320 County Road 751, Cedar Bluff, AL 35959
(actual surrender site)
Questions: [email protected]
Like us on Facebook: Cherokee Battlefield Preservation Corporation
Contributed