A 36 year-old Rome woman, Misty Deanna Rogers, arrested on drug charges this week is now facing additional charges after she was found to be the suspect in a forgery and theft case.
Reports said that on April 13th, Rogers wrote a check that had been reported stolen and did not belong to her to Tom Fouts Tire in the amount of $1,769.
She is also accused of depositing two other stolen checks into an account. The checks were in the amount of $307 and $268.89.
Rogers is charged with third-degree forgery, two counts of fourth-degree forgery, and three counts of theft by receiving stolen property.
Previous
Three Romans, Christopher Scott Rogers, 39, Misty Deanna Rogers, 36, and Christopher Robert Atkins, 32, were arrested on various drug charges following a traffic stop on Gadsden Road.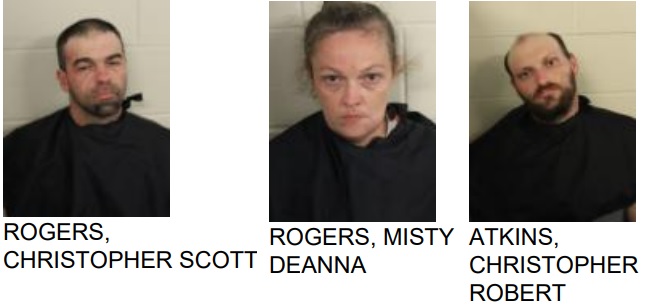 Reports said that officers stopped the vehicle as it matched a description of a possible stolen car.
Police said that when they approached the vehicle they observed a suspected meth pipe in the center console. After removing the driver, Christopher Rogers, a search then led officers to find a small bag with suspected methamphetamine in the driver's door. Two syringes containing suspected meth, as well as another suspected meth pipe was also found under broken plastic where the gear shifter is located.
Misty Rogers was also found in possession of another glass smoking device containing methamphetamine in her bra. An additional glass smoking device containing the drug was also recovered in her purse.
All three are charged with two counts possession of methamphetamine and possession of drug related objects.
Christopher Rogers is additionally charged with giving false information to police and driving on a suspended license.