A Rome man who was jailed after a murder plot went wrong, Dijon Demar Roberson, 29, is now facing an aggravated assault charge for nearly killing a 29 year-old woman.
Reports said that Roberson choked out the victim during a verbal argument on November 8th.
The incident occurred in front of five small children.
He is now charged with aggravated assault and five counts cruelty to children.
PREVIOUS November 20 2020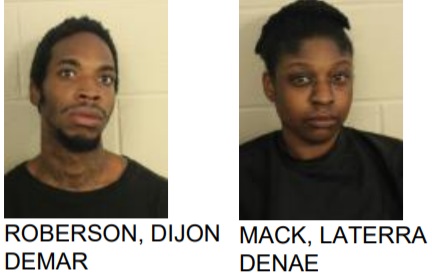 Dijon Demar Roberson, 29 of Rome, and Laterra Denae Mack,37 of Rome, were jailed this week after setting out a plan to kill another person.
Reports said that Roberson and MAck did conspire to kill an unnamed victim. Reports said that the couple did convey the plan to a 16 year-old female, who was the stepdaughter of the intended victim.
The couple then allegedly explained the plan was to drug and kill the man and then take him to the woods to be shot and left to die.
While being taken into custody on Braves Blvd Roberson was found with marijuana in his pocket.
Both are charged with second degree cruelty to children.
Roberson is additionally charged with possession of marijuana.