Quantez Antionne Johnson, 28, of Ellenwood, was arrested Thursday after leading Cherokee County Alabama authorities on a chase into Floyd County.
Reports said that Johnson reached speeds of close to 100 miles per hour as he came down Alabama Highway and turned left onto Mays Bridge Road.
Police added that Johnson drove though a locked gate and fence at the dead end near International Paper property.
Johnson is charged with criminal damage to property and possession of a firearm by a convicted felon in Rome.
He was found with a .40 caliber Smith & Wesson handgun in the vehicle.
From Alabama
According to Cherokee County Sheriff Jeff Shaver, on Thursday, January 11, 2018, an investigation into false prescriptions led to a vehicle pursuit into Floyd County, Georgia, and landed two men in jail.
Sheriff's Office Investigator Tony Monroy was looking into a report of suspects obtaining false prescriptions when he located Michael L. King, 22, of Clearmont, Florida, purchasing prescriptions under a false name inside Johnson's Pharmacy in Cedar Bluff.
Investigator Brian Gilliland noticed the vehicle used by King was occupied by another male and attempted to make contact. The driver fled, slightly striking Gilliland with the vehicle. Gilliland and Deputies Thomas Key and John Sentell pursued the vehicle, until the driver crashed into a fence near Coosa.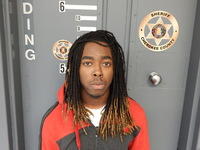 Pictured: King
Deputies quickly took the suspect into custody until Georgia officers arrived. The driver of the vehicle, Quantez A. Johnson, 28, of Ellenwood, Georgia, was transported to the Floyd County jail on charges of felony damage to property. He will be extradited to Cherokee County, where he will face charges of second degree assault and attempting to elude. King was transported to the Cherokee County Detention Center on charges of unlawful possession of a controlled substance.
According to Sheriff Shaver, investigators are continuing to look into the case and more charges may follow, relating to transactions at other pharmacies.